A preview from the next issue of Hack Circus! Comedian Paul Kerensa examines the accuracy of sci-fi prophesies, ahead of his new Edinburgh show Back To The Futon Part 2. He's also the founder and maintainer of themovietimeline.com, a wonderful resource of dates in fiction, from which many of the details from this article are drawn.
October 22nd 2015 is a dark day for Back To The Future fans. Up till October 21st – the day Marty McFly lands in the future – we have hope that the days of flying cars are ahead of us. For 30 years we've been in a limboland between the trilogy's first and second films, between 1985 and 2015, skateboards and hoverboards, Tab Clear and compost fuel, Huey Lewis and Jaws 19.
The future promised in the films has yet to materialise. Roads? Where we are, we still need roads. We don't wear two ties with a suit, our doors still have handles, and the home fax machine never really took off. Credit where it's due, they got some things right: large flatscreen TVs, Skype calls and Google Glasses, or at least a version of each. But the main thing they missed – indeed pretty much all sci-fi failed to predict – is the prevalence of mobile phones and the internet. In Marty McFly's 2015 home, his daughter answers her Googlish Glassish specs as a family phone: "It's for you, dad." They predicted the headset, just not that we might want a phoneline each.
Till October 21st, when that Delorean parks in a side street of Hill Valley's main square, I live in hope that that the prophecies may yet come true. On that day, the future will briefly be the present, before Hill Valley's future becomes our past. The hoverboard will become a museum piece for a future that never was (alright, alright, there are hover boards. But they're about $10,000, so maybe let's say "the affordable hoverboard"?)
So what then? What happens when 'the future' comes to an end? Well it carries on, of course. Back To The Future will have done its job, and other films take over. Further filmic events to look forward to this year include the outbreak of simian flu in Dawn of the Planet of the Apes, and the first permanent moon colony established in space horror Event Horizon. The Island's new eugenics laws ensure clones never achieve consciousness; the corrupt Houses of Parliament suffer an attack from V for Vendetta; The Wolverine regains his regenerative powers; and in Hot Tub Time Machine 2, someone from an alternate future gets shot in the penis.
Next year, other movies pick up where Hill Valley left off, with Blade Runner's replicant Roy being incepted on January 8th 2016. A month later is psychic Elaine's prediction of the world's end from Ghostbusters 2, but assuming we survive that, as well as the increasing ape-based takeover, then there's the World Robot Boxing league in Real Steel to plan ahead for. And such prophecies aren't just the domain of the sci-fi film – romcoms too have a predilection for prediction. Who can forget Leap Year? Who wishes they could forget Leap Year? Of course, 2016 has a February 29th, when Amy Adams might get down on one knee to either her American boyfriend or the Irish innkeeper she should really be with. It 's a beautiful ending...
...but short-lived, because if 2018's Fortress is to be believed, they can't have kids or they'll get locked in a giant space prison. Oh and that's if 2017's The Running Man hasn't already selected them to fight with Arnold Schwarzenegger against some overweight gladiators. Then there's all the fun of Terminator: Salvation, and probably various Judgement Days to come about, depending on the timeline (I gave up after the first melty robot sequel).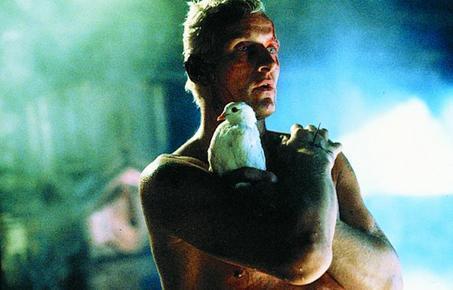 2019 has 99% of the population becoming vampires in Daybreakers, plus more Blade Runner fun, then in 2020 it's dragons in Reign of Fire and a long-awaited Mission to Mars, before Keanu Reeves does his Johnny Mnemonic thing a year later. By 2022, there can't be many people left, due to the prisons/vampires/dragons/sneezy apes, but if there are any people, you can eat them as Soylent Green. Of course some people will still be around, because they're immortal, as we'll discover in 2024 thanks to the events of Highlander II: The Quickening. From there on it's largely space travel (endure The Wrath of Khan in 2285), with the occasional moment on a bizarre future utopia when the 'Wyld Stallyns' of Bill & Ted in 2688, or, much further ahead, when humans have evoled into Morlocks and Eloi, as the Time Traveller discovers when his Time Machine just won't stop until 802,701, or ultimately the year 865,427,810 – which is about as far as any sci-fi film seems to guess at on-screen.
So, plenty to look forward to. If your hoverboard doesn't arrive by October 21st, the simian flu might. And ultimately it doesn't really matter; in eight hundred million years' time, we'll have evolved into something else anyway. By then – think of this – maybe we'll be able to hover without a board...
If you're heading to Edinburgh for the festival this summer, check out Paul's show Back To The Futon Part 2. Here's his amazing Movie Timeline: themovietimeline.com, and of course he's very funny on twitter @paulkerensa